« Return to the games list
ViRus 4.0
Description
With ViRus 4.0, Triple Boris wants to offer the general public an extraordinary virtual reality experience. In solo or in team, the player lives an unprecedented adventure of shooting in the first person on rail. He enters a futuristic post-apocalyptic story where he must become a hero to save himself and his peers.
Eventually, the content will be available in an episodic way to allow a wide variety of scenarios. The story will take place in various known places, such as Montreal, Quebec City, Trois-Rivières or Sherbrooke.
The ViRus 4.0 game is a virtual reality experience based on the rental based entertainment model. In other words, it's an out-of-home entertainment like an arcade, a amusement center, a movie theater, where you can try this cooperative game with family or friends!
ViRus 4.0 offers a beautiful cartoon style that will appeal to a wide audience. The game is for people of all ages, since there is no violence, no blood, to the delight of parents! The goal is mainly to have fun with friends and experience a first experience of a virtual reality game!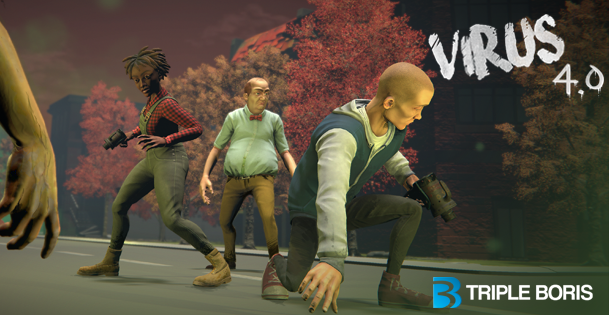 Specifications
Release date:

2019

Platform:

PC

Type of game:

Action / Adventure, AR/VR