« Retour à la liste de jeux
OK, K.O.! Lakewood Plaza Turbo!
Description
Deviens un héros avec K.O. et utilise tout un arsenal de coups spectaculaires pour combattre le maléfique Lord Boxman dans OK K.O. ! Lakewood Plaza Turbo !
BATS LORD BOXMAN (SI TU EN ES CAPABLE)
Lord Boxman est prêt à tout pour détruire Lakewood Plaza. Mais il est hors de question que tu le laisses faire ! Apprends de nouveaux coups, débloque des attaques spéciales et utilise des objets surpuissants pour arrêter son armée de robots diaboliques. Deviens enfin le héros que tu as toujours voulu être, et renvoie cet énergumène d'où il vient !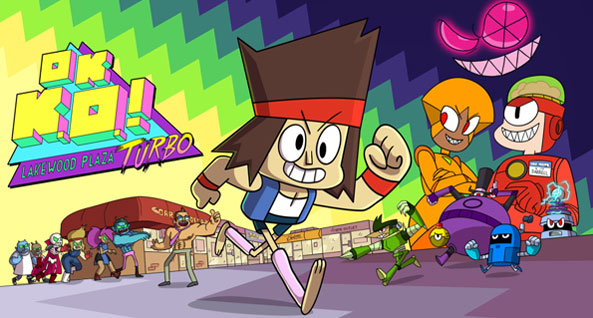 Specifications
Date de lancement:

2016-02-04

Classification:

Pour tous

Double Stallion
Description
Double Stallion Games creates unique player experiences in familiar genres using gorgeous 2D hand-animated aesthetics that feel fresh and dramatic to modern consumers. In 2013, we redefined what a beat-em-up could be on mobile with Big Action Mega Fight! and created an endearing off-the-wall game that lived up to the memories of our most cherished classics. The game launched for iOS and Android, and was ported to PC in early 2016. In 2014, we began a collaboration with Cartoon Network to launch their latest cartoon property: OK K.O.! Lakewood Plaza Turbo. In collaboration with the talent from the CN show Steven Universe, we created an explosive open-world action-adventure that is the largest title Cartoon Network has funded to date. It continues to rank among the most downloaded titles on iOS and Android. We are doubling down on action and spectacle for our next original title, Speed Brawl. Building ambitiously on our foundations, we plan to release the game on PC & consoles in Q1 2018.
Information contact